A Guide for Parishes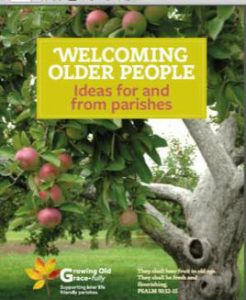 Our Guide for parishes on learning from and caring for older people is available to download (you need to register). http://www.c8541953.myzen.co.uk/resources-for-registered-users/
This Guide is free and contains practical ideas and case studies to support church communities in valuing older people and benefiting from their gifts. We are going on tour round the Diocese to launch the Guide and circulate printed copies. To find out more or book a short session, please email Rachel at growing.old.gracefully@dioceseofleeds.org.uk
Being a Dementia-friendly Parish
Our Guide Welcoming Older People – ideas for and from parishes has a section on ""Growing Dementia Friendly Parishes" (section 3, pages 31-43) which you can download for free.
The Charity Livability offers a range of services and resources to support churches to become more accessible and inclusive for people with dementia and their carers. Read More  .  Livability have published a very helpful  'Developing a Dementia-Friendly Church' booklet, which is available on application free of charge from Livability.  They also offer a "Top ten tips" guide for churches which is helpful:
Top-ten-tips-for-Dementia-Friendly-Communities
MHA, the charity for older people established by the Methodist Church, have published a series of booklets that offer some helpful advice on welcoming people with dementia.
Here's a summary of ideas for helping your parish become dementia-friendly, prepared by Leeds Dementia Action Alliance for Growing Old Grace-fully Some practical ideas for helping your church become dementia friendly
Twiddle Muffs – Knitting to help people with dementia
Enthusiastic knitters around the Diocese are helping people living with dementia by knitting Twiddle Muffs.
Professional caregivers rave about the effectiveness of Twiddle Muffs.  Having something to hold and manipulate, something to "twiddle" or fidget with, has a calming effect on a person who has dementia.  The textures, the gadgets, the warm coziness are all there for just that reason.  The stimulation they provide truly adds to the individual's quality of life.
If you know someone with dementia who you think might benefit from a Twiddle Muff, here's the pattern and instructions.  How to Knit a Twiddlemuff
We would love to hear your stories of where your Twiddle Muff went – just email Rachel (details on the right).
Prayer for dementia-friendly parishes  Dementia Prayer
Ideas from around the Diocese

Here is a one page document describing a regular liturgy that takes place monthly in one church community.
Parish Audit

The following short document could be used as a way of thinking about things you could do in your own community.