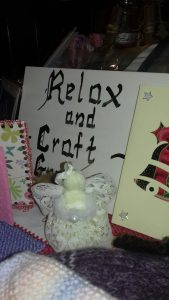 I was delighted to be invited to the First Anniversary Celebration of the Parish of St Clare Relax and Craft Group yesterday.
Fr Stephen celebrated Mass and Sr Catherine gave a reflection starting with the Gospel reading – the story of Martha and Mary.  Sr Catherine said the Relax and Craft Group was designed to embrace the gifts of both Mary and Martha.  Members of the group are busy working whilst at the same time creating space to listen to each other.
Sr Catherine went on to thank all the people who'd been involved in the group since it started a year ago including Fr Stephen, the Community Centre Committee and all the people who attend.
Sr Catherine asked everyone to look at the blanket of knitted squares on display, completed by the group.  "You will find out motto 'Togetherness Builds Community' attached to it.  We try to live by this as it expresses our guiding ideal.  We constantly need to strengthen the sense of community in our parish and in our city and build bridges not walls.  Working together, we human beings can accomplish amazing good," she explained.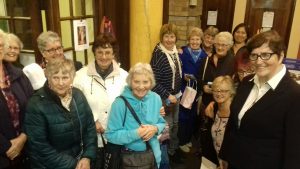 "God has provided among us all the giftedness and talents needed for building up the community,"  Sr Catherine continued.  "The challenge is to go on encouraging and inviting those blessed with talent and ability to share these gifts with others.  Let us continue to Aspire, to Inspire before we Expire."
Here are some of the comments the group members have made to Sr Catherine:
"I feel needed and feel good about myself."
 "I have never felt so alive."
 "I feel trusted and can share my innermost feelings."
 "I enjoy the craft and meeting everyone."
Thank you for inviting Growing Old Grace-fully to hear your inspiring story.
Rachel Walker, Project Co-ordinator